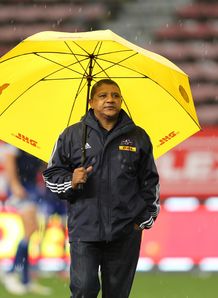 Related links
Also see
Stormers boss Allister Coetzee wants his team to show greater versatility in next year's Super Rugby tournament.
The Western Province side produced the measliest defence in this year's competition, only conceding 18 tries across 18 matches.
However their attack at times was ineffective, scoring the third-lowest number of tries in the competition with 30 as Coetzee's team missed out on a playoff spot behind the Cheetahs and Bulls.
Highlighting the 14-19 loss to the Crusaders, Coetzee pointed out how his side must adapt better to reading the game early on in order to seal tight matches.
"The big thing is not engaging with the Stormers, when we played the Crusaders this year it took us ten minutes to understand that they were not prepared to run," said Coetzee.
"Teams respect our defence so much, so we have to look at opportunities and be able to utilise the position we are in.
"Now we also see that there are other opportunities, that are the important things for us next year.
"We have got to get the balance.
"Certain things worked in the Currie Cup and we will certainly take that into Super Rugby without deviating from our strong defence and strong kicking game."