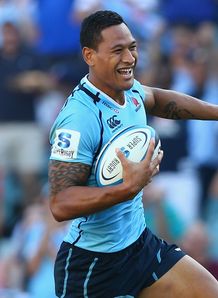 Ewen McKenzie is adamant he won't instruct the Waratahs where to play prized asset Israel Folau in the coming Super Rugby season.
Though Folau has played most of his Wallabies Tests at full-back, a position head coach McKenzie feels the star is most suited to, the NSW franchise may shift him in to outside centre in 2014.
With the ex-NRL man joining Kurtley Beale and Bernard Foley among 'Tahs coach Michael Cheika's full-back options, it remains to be seen which he will prefer for the Super Rugby campaign.
It is reported that the former Leinster boss hopes to utilise Folau's powerful strike-running in midfield, but McKenzie claims he won't look to block his key attacking threat from being played in the centres.
"Whether they're slightly out of position ... they've got a whole raft of good players all capable of playing different positions," McKenzie told AAP.
"I'm not going to tell Michael Cheika where to play people. I respect the Super Rugby teams have to do what they have to do.
"I'll watch them for the skill contributions they put on the field and the attitude and intensity they display.
"I'll obviously talk to Michael Cheika and see how he's going to do it so I understand what they're trying to achieve.
"It's not going to mean it'll line up with what I'm doing.
"The best players can adapt, that's why they're the best players."
The former Reds chief also said the presence of Folau in the number 15 jersey meant teams were less likely to kick possession away, fearing a counter-attack.
"The teams who want to kick it means he touches the ball and he gets to play," added McKenzie.
"If they don't want him to touch the ball they don't kick it to him so that's also a good outcome for us.
"Even I was sceptical at the start because he didn't have background in the game and came from different sports ... but clearly he has a terrific attitude, he's a professional operator and he doesn't get distracted. He absorbs ideas and concepts."