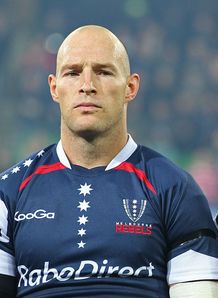 Related links
Also see
Former Australia captain Stirling Mortlock believes the introduction of a new domestic competition is a "fantastic result."
The ARU confirmed earlier this week that the National Rugby Championship would begin in 2014, offering Australia an equivalent to the Currie Cup in South Africa and ITM Cup in New Zealand.
Mortlock, who retired in 2012 after spending 14 years in Super Rugby with the Brumbies and Rebels, stated that the new format had been desperately needed for some time.
"Without a doubt we've been crying out for this for a long, long time, and you'd argue that it's been too long," said Mortlock.
"New Zealand have got the ITM Cup, South Africa have got the Currie Cup. We don't have any equivalent.
"This will give us that tier competition that we've been after, and it will be a great opportunity to get a bridge between club and provincial rugby, which is what we so desperately need. It's so important for us to have, and the political powers that be need to understand how important it is for Australian rugby to grow and to put agendas aside to make this work."
While the finer points of the competition are still being thrashed out, the NRC will run from August to November featuring eight to ten teams with all Super Rugby players not involved with the Wallabies competing.
A sponsorship deal from Fox Sports will also cover the costs of running the tournament and ease the financial pressure on the ARU.
"The how is still to be nutted out, and the devil is always in the detail. But it's nice that it looks as though it's going to be funded, and it's going to be on TV as well," added Mortlock.
"So there's a lot of positive foundations, but there's still a lot of things that need to be agreed to and I'm not privy to those at this stage. But first and foremost, I think it's a fantastic result for Australian rugby in general."