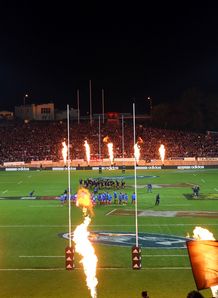 Related links
Also see
The Taranaki Rugby Football Union has joined the Chiefs as part of a seven-year licence issued by New Zealand Rugby to run the organisation.
The licence holding entity is owned by a group of private investors and provincial unions and will be known as Chiefs Rugby Club Limited Partnership (CRC).
Taranaki will now transfer into the Chiefs region, after being part of the Hurricanes franchise area since the inception of Super Rugby.
The introduction of Taranaki will include the allocation of two competition games in 2014 and 2015 at Yarrow Stadium in New Plymouth. Waikato Stadium will continue to host a minimum of five home games per year. In 2014 six competition games will be played in Hamilton.
Game allocation in 2015 and beyond will be made on a year by year basis. Pre-season matches will continue to be spread around the region as part of the Chiefs desire to engage its fan base. Rotorua International Stadium will host the Blues pre-season match on 14 February of 2014.
The Waikato, Counties Manukau, Thames Valley, Bay of Plenty, King Country and Taranaki provincial unions will provide 50 per cent of a $3.3 million investment in the organisation.
The other half will be provided by private investors from Waikato, Taranaki and, for the first time in New Zealand Super Rugby franchises, overseas through Mauritius-based Chiefs fan and businessman Eric Series.
As part of their community programme since assembling on 28 November the squad have already visited Thames, Whangamata, Tairua, Waihi, Mercury Bay and Te Aroha with many other community engagements planned.
Chiefs CEO Andrew Flexman said: "It is great to have our provincial unions involved as part of our investor group and with Taranaki joining us, we look forward to embracing the fans in one of New Zealand's most passionate rugby communities."