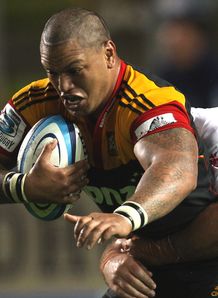 Chiefs hooker Hika Elliot is giving his rugby career some serious thought due to a neck injury which left him battling to walk.
The 27-year-old's neck problem, which he has been playing with for several seasons, worsened during the New Zealand Maori match against Canada in Toronto last month.
Elliot, who had surgery a week ago in which a disc was removed and a bone graft taken from his hip, said retirement has become a firm possibility.
He told New Zealand's Livesport the operation had gone well and he would see a specialist in a couple of weeks.
''It's something that they reckon I've been playing with for a couple of years now,'' said Elliot.
''Against Canada a few weeks back it just got progressively worse during the game.
"And then by the time I went to come off I actually couldn't walk properly. It was quite scary for myself, especially when you're dealing with your neck, it's something you need to take care of.
''I could feel, slowly, my body giving way. My brain would say something and my legs wouldn't go.
"And by the time I had actually come off the boys thought I had been concussed because I was a bit wobbly on my feet and couldn't walk properly.
"It was just something that got worse and worse and by the time it got to the stage where my legs weren't working I thought 'Hey, something's going wrong here'.''
Elliot, who has represented the All Blacks in three Tests, said he felt fortunate he still had the use of his legs.
"I'm looking at sitting out most of Super Rugby if not all of Super Rugby and the ITM Cup,'' he added.
"I have to weigh up my options. It's been a bit scary over the last couple of weeks.
"I feel I'm incredibly lucky to still be walking.''