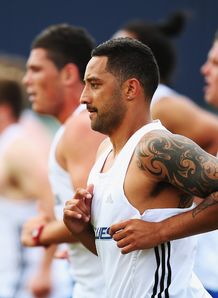 New Blues recruit Benji Marshall has given his biggest hint yet about which position he wants to play, saying he hopes to be half as good as former All Blacks full-back Christian Cullen.
Marshall's career with the Auckland-based franchise started on Thursday with his first pre-season training session since making the switch from Wests Tigers in the NRL.
There has been plenty of speculation about a position for the code-hopper, with full-back, fly-half and centre all being mentioned as potential roles but he said in order to make an impact in the 15-man code he will be looking to Cullen, who was his childhood hero, for inspiration.
"My favourite player coming through was Christian Cullen, so if I can emulate half of what he did in the game and play a little bit like he did I'll be pretty happy," Marshall told the New Zealand Herald.
"No one really knows how it's going to go yet, I can only guess and hope that it goes great and I'll give myself every chance by training as hard as I can."
The 28-year-old said he felt his age during the pre-season training drills.
"[It] made me definitely feel old out there today among those young fullas," said Marshall.
"The boys got a good gauge of what I'm like; I'm a bit of a joker and like mucking around and I showed them a bit of that this morning."
He also admitted that initially there were a few reservations about meeting his 2014 team-mates.
"I was really nervous this morning about sitting in the team environment for the first time, [but] the boys were good to me and made me feel welcome," he added.
"Just that first team meeting, I didn't know many people, it was a bit scary but everyone's been awesome."