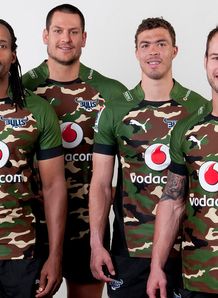 Related links
Also see
The Bulls have unveiled their new Super Rugby kit for 2104 featuring camouflage designs on their home and away strips.
Called the "InvisBull" kit, manfucturers Puma said "with camouflage being a major seasonal fashion trend across the globe, the fanwear has a cool, fun appeal."
In the lead up to the reveal, Puma ran a teaser Youtube video as part of a campaign entitled "The Nature of the Bulls: You never see them coming".
"Puma have certainly transformed the pace since their arrival at the Bulls and the team feels that new Away khaki green and brown jersey, a complete contrast from our old-style kit, is a bold statement towards distinctiveness," said Blue Bulls Company CEO, Barend van Graan.