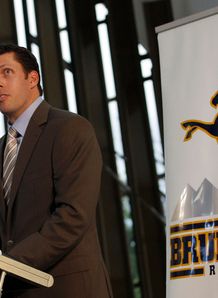 Brumbies chief executive Andrew Fagan has resigned from his position, calling time on his tenure in Canberra just six months into a new contract.
The decision to leave also comes two months after coach Jake White was granted a release from the final two years of his deal with them.
He will leave his position at the end of the year.
Fagan came to the Brumbies in 2002 as general manager having previously worked with the Australian Sports Commission for nine years. He was promoted to chief executive in 2005 and has held the position since.
"It's time," Fagan said about the decision.
"Earlier this year, I extended my contract for a final one-year term and agreed to work with the board on a succession plan to help with a smooth transition to a new chief executive.
"But with the sale of the Griffith site complete, construction of our new facility at UC taking shape, the new coaching framework settled and a healthy sponsorship program in place, it became clear that now is the best time for a successful transition.
"Leaving now will allow a new Chief Executive time to settle in and apply new thinking where needed for 2014, but most importantly, he or she will be here to lead the strategic planning for season 2015 and beyond. That wouldn't have been possible if I stayed on until the end of next season.
"It's a sad day to walk away from an organisation I love but it's the right decision for me and the right decision for the Brumbies."
UC Brumbies chairman Sean Hammond said Andrew Fagan will be hard to replace.
"Andrew leaves a substantial legacy," Hammond said.
"He's done many great things for the Brumbies, first as General Manager and then as CEO. He's led the organisation back to the top of the Super Rugby world, lead the sale of our headquarters at Griffith, the establishment of a unique partnership with the University of Canberra and built a solid financial and high performance culture.
"He leaves the organisation in great shape and we thank him for all his hard work and wish him well for the future."