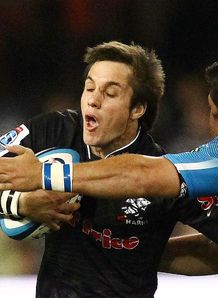 New Brumbies recruit Conrad Hoffmann is still happy with his move to Canberra despite the exit of fellow South African, Jake White.
The former Stormers and Sharks number nine was recruited by White to join the Super Rugby finalists before White's acrimonious departure earlier this year.
Stephen Larkham and Laurie Fisher will now lead the Brumbies next season and Hoffmann is eager to be a part of whatever the team does next.
''At first I didn't know what was happening with Jake. But it wasn't the end of the world," Hoffman told the Canberra Times.
''Jake was the one who contacted me about playing at the Brumbies ... but they've really accepted me here.
''I never thought about staying in South Africa; it was never about Jake. The reason I came to the Brumbies wasn't about Jake, it was about the Brumbies and a chance to play here with the team.
''When he left, it wasn't ideal, but it wasn't the end of the world and I'm excited to be here."
Hoffman's time with the Brumbies is something the 26-year-old scrum-half is viewing as a fresh start, after playing club rugby in Cape Town following a string on injuries.
''I had a slipped disc in my back and that kept me out for a while. I had a broken elbow, and then I was supposed to join the Brumbies for the club sevens tournament in London [in August], but I injured my ankle,'' summarised Hoffmann.
''My first choice was to play for the Brumbies. I like the way they play, it's creative and attacking.
''Every player wants to get in the starting side, and that's my goal, but it's about the team success.''