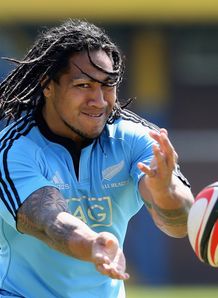 Related links
Teams
All Black centre Ma'a Nonu has spoken out this week on his decision to sign up with former Super Rugby franchise the Blues.
After months of uncertainty, the powerful midfielder is happy to have secured his future in New Zealand.
"I wasn't sure for a long time and I guess as I said before doubting my ability and staying in the country, whether I could perform so I guess it's another step in terms of trying to play the best rugby I can," Nonu told ONE Sport.
Having left the Auckland-based outfit just nine months ago, Nonu was rumoured to be joining a European club afterthe Rugby Championship, but says he is happy a frank discussion with Blues coach Sir John Kirwan led to his return.
"(I'm) quite lucky, JK is understanding and I guess for me I just have to prove it really and try and reconcile and I guess it's all about performance really," said Nonu.
Colleague with both the Blues and All Blacks Francis Saili enjoyed an excellent Super Rugby season, and admits he is looking forward to learning more from the returning Nonu.
"He's always been a mentor of mine ever since I met him so I'm still ticking off the boxes and still learning off the old master," said Saili.