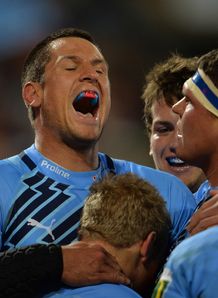 Related links
Teams
Bulls captain Pierre Spies admits he is in favour of a global rugby season, which would see the Super Rugby competition finish earlier in the year.
Currently the business end of the Super Rugby term is sandwiched either side of June's Tests, something that the number eight is against.
"I would like the competition to finish before the start of the international season," Spies revealed at a sponsorship event in Midrand on Thursday.
"If you can put all your focus into the Super Rugby season, and get it done with, then have four weeks of preparations to start with your Test season and finish around the end of October."
"The national teams would then go straight into their preparations for the year-end Test matches.
"There has been talk of a global schedule, and I am in favour of it."
Spies' comments followed reports about proposed changes to the Super Rugby format for 2016, one being splitting it into a two-conference model. The two conferences would consist of Australia and New Zealand in one, with South Africa and possibly Argentina in the other.
This proposal would accommodate both the Lions' and Kings' inclusion, with Spies saying there was a case for two separate teams to play in Super Rugby and Currie Cup.
"The reality is that your Springbok players aren't playing in Currie Cup, even though it is South Africa's flagship competition. It is becoming more of a talent developer," he said.
"The focus should go more into Super Rugby and you should have two squads again."
The Springbok number eight said he would also be in favour of suggestions to expand the Currie Cup back to an eight-team competition.