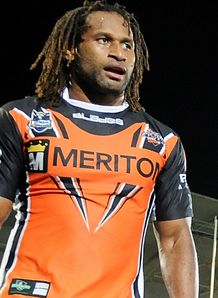 Former Australia wing Lote Tuqiri has admitted he could return to the game from Rugby League next season.
The 33-year-old is out of contract with NRL side West Tigers at the end of the season, but his playing time has been heavily disrupted.
Tuqiri has played in the Tigers last two matches, but has been out of action for the majority of the last two years due to complications from a broken arm.
With Tigers not set to offer Tuqiri a new contract the former Wallaby, who won 67 caps between 2003-2009, could now return either to Super Rugby or potentially play abroad - as he did with Leicester Tigers in the Aviva Premiership.
"I am going alright and if it's not here at the Tigers then it will probably have to be somewhere else," said Tuqiri.
"I am sifting through a few things at the moment and hopefully have something for everyone in the next couple of weeks.
"There are a few things there, I will just have to weigh them up with the family and take it from there.
"(Rugby's) an option as well, having some experience in it and we'll just see how the next few weeks pan out.
"I have struggled in the past with the weight of expectation around contract-time but I am older now and I can just go out there and enjoy myself.
"I have put two games together now and hopefully I can see out the season. It's been a tough two years with injuries but hopefully I am over all that bad luck."