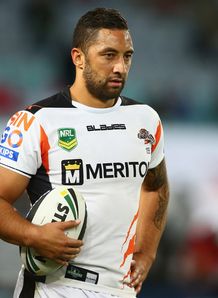 Related links
Teams
Also see
NRL sensation Benji Marshall has confirmed that he will play for the Blues in Super Rugby next season after signing with the side.
The 28-year-old confirmed that he had signed a two-year deal to play in Auckland, making him available for the 2014 and 2015 Super Rugby seasons.
Marshall has played 27 tests for New Zealand in Rugby League, captaining the side between 2009-2012.
"Based on what JK [Kirwan] has told me about the winning culture the Blues are working to create and where he sees my part in that, I'm really looking forward to this next stage of my sporting career," said Marshall.
Blues head coach Sir John Kirwan has stated that he is "thrilled" by the arrival of Marshall next season.
Uncertainty remains however on where Marshall will be deployed in the Blues back-line.
"It has been a bit of a process because it's obviously a big decision for Benji but he's really excited about the challenge and we're thrilled to have someone with his professionalism and ability in the organisation," said Kirwan.
"I think it's going to be a great journey for all of us.
"Benji has the ability to break open a game; he's one of those players that does the right thing at the right time. He has great footwork and a good passing game so we can see those attributed being really beneficial to the Blues and to rugby union.
"Obviously he's a talented player so perhaps 15 (full-back), 12 (inside centre) or 10 (fly-half) but we don't really know yet.
"We're leaning towards 15, but we'll just have to wait until he joins the team for pre-season training and see how it goes."