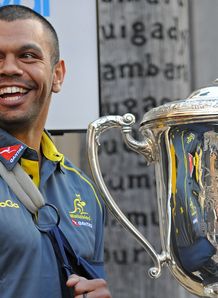 Related links
Teams
As he prepares to commit to rugby union, Kurtley Beale admits that he has a lot to prove after a year tinged with regret.
Beale's representatives have been in talks with the Waratahs about signing the utility-back following his departure from the Rebels. There was speculation that Beale would move to the NRL rather than continuing his union career back in Sydney, but the 24-year-old reveals that this will not be the case.
"Hopefully there'll be an announcement as early as next week," Beale told AAP of his future with the Waratahs.
"Hopefully one day I'll get the opportunity (to play in the NRL). I'm a huge league fan," he added.
"But there's still a lot of unfinished business here in rugby union that I want to do."
Beale's year has featured considerably fewer ups than downs, with the Wallaby admitting to alcohol-related issues following a lapse after he was sent home from the Rebels' tour to South Africa after punching a team-mate.
"There is a bit of disappointment and a little bit of regret," Beale said of the past eight months.
"I've learned a lot from that.
"It's a bit of a day-by-day process for me now, to be able to actually build on the things that I've learned from and just live."
Beale is currently back in his home town of Sydney were he is continuing treatment for his personal problems and also recovering from shoulder surgery, and he admits it's the right place for him to be at the moment.
"I'm very happy with where I'm at ... a big part of that is being around family and friends and the support network," he said.
"I know deep down I can play better than I have ... now I've just got to be honest with myself and not take any shortcuts.
"I've got six months to knuckle down and get the body right and get the head right. Get it all settled."