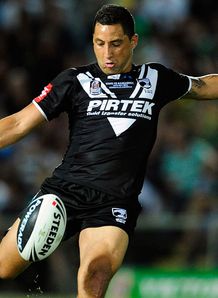 Related links
Teams
NRL star Benji Marshall is reportedly 24 hours away from sealing a move to Super Rugby with the Blues.
Marshall is set to leave Rugby League side West Tigers at the end of the season and met with Blues coach Sir John Kirwan last week to discuss the switch.
Regarded as one of the finest talents in the code, Marshall's switch would see him targeting a place in the All Blacks squad ahead of the 2015 Rugby World Cup in England.
Rumours circulated over the weekend that Marshall's signing was already complete, something which his agent Martin Tauber was quick to rule out.
"That's most certainly not true," said Tauber to AAP.
"We won't know until tonight or tomorrow.
"It's all got to be presented to Benji and that's not likely to happen till tonight or tomorrow, at which time he'll have to make a decision.
"But the rumour that he has signed, not (true) at all."
New Zealand coach Steve Hansen discussed Marshall's arrival in the sport, describing him as a "world-class" athlete.
Hansen however was tentative over Marshall's chances of immediately linking up with the All Black squad.
"He's a world-class rugby league player and a world-class athlete and, by all accounts, listening to the media and listening to him talk, he seems to be a very good character," said Hansen.
"So to have someone like that who wants to be an All Black is great.
"I can't [comment further], because I don't have any information to back it up, other than what I've seen.
"If he can transfer his skill set that he has been displaying into rugby, then he's got a good chance of being a very good rugby player."