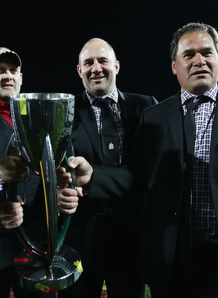 Related links
Teams
Chiefs boss Dave Rennie credited his squad's renewed ambition after clinching back-to-back Super Rugby titles on Saturday.
The Chiefs followed up their 2012 success with a 27-22 victory over a spirited Brumbies group at Waikato Stadium, becoming only the fourth side to win back-to-back Super Rugby championships.
Rennie deflected the talk of following up 2013's success with a hat-trick of trophies next season, focusing on the efforts of his squad and praising their consistency.
"Dynasties are things you reflect back on. We've won a couple of titles, next year will be about realising how hard we've worked to achieve what we've done," said Rennie.
"We had a lot of boys last year who were pretty desperate, so your concern after you've won a championship is will you be as desperate next time round. To the credit of our boys they've worked really hard. There's a lot of personal drive within the group and in our relationship with the community.
"It's a special group. We have fantastic impact off the bench and there's not much difference between them and the starters.
"I don't care [about respect] to be honest. It's more about what happens within our group and we're very satisfied. It's a tough tournament and you have to be consistent, and playing at home tonight made a difference."
Rennie also reserved credit for the Brumbies tactical approach at the breakdown and in defence, describing the interception score from Christian Lealiifano as an inevitability.
"They were smart. They didn't commit to the rucks so they were able to swing around. It looks offside but technically was fair enough, so they disrupted a lot of our ball," added Rennie.
"It took us a while to work out a strategy to cope with that and we did in the second half.
"We said in the coaches box that the intercept was always going to come, so once we started sending bigger numbers into the rucks we were able to get a bit more tempo and stop them round the sides, it made a difference in the last 25 minutes.
"It was more nerve-wracking than the first one. We always knew we had it in us, but the Brumbies are a quality side - they showed that at Loftus last week and I guess we needed to dictate the tempo in that last period, and we did it pretty well."