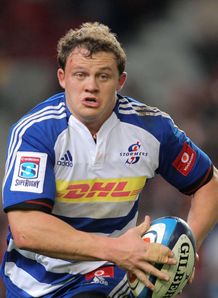 Related links
Teams
Stormers coach Allister Coeztee believes that Deon Fourie is more likely to gain Springbok selection as a flank rather than as a hooker.
Fourie played the latter stages of the Super Rugby season with the number six or seven on his back, having also turned out on the flank during Western Province's title-winning 2012 Currie Cup campaign.
Despite only playing a handful of matches on the side of the scrum, Fourie still managed to notch up the fifth most turnovers (19) during the Super Rugby season and was one of the top ten pilferers. In addition he also featured in the top ten for most runs made.
Such form has led many to suggest that Fourie should make a permanent switch to the flank. In disclosing that hooker Tiaan Liebenberg was on his way back to full fitness, Coetzee revealed that Fourie would be stationed on the flank once more during the Currie Cup.
Coetzee believes that Fourie has the required skills to become a Springbok flanker, with his playing statistics speaking for themselves.
"I believe, in terms of playing international rugby, openside is the position where Deon has the best chance of making it," said Coetzee.
"He's right up there. His stats are competitive internationally, not just nationally."
While a fetcher is often judged on his abilities to steal and disrupt opposition ball, Coetzee feels that Fourie's strengths lie not only in this area.
"What's impressive is not just his ability to pilfer but his work rate," he asserted. "The amount of ball carries he does and the volume of rucks he hits, is exceptional," said Coetzee.
"His tackle count and completions are among the best in the competition and he is also very quick over the ground and that makes him a good attacking option.
"Across the board he has high numbers, which points to his excellent physical conditioning and also his intelligence as a player.
"His leadership style is very good because he understands the game plan and our approach as well as the coaches do," Coetzee added.
"He's not a big talker, but when he does speak the players listen because he has something to say."