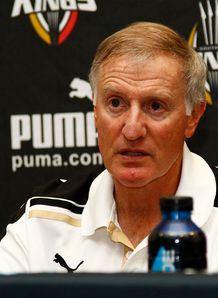 Related links
Teams
Also see
Alan Solomons insists his decision to leave the Kings and take over the reins at Edinburgh has little to do with the franchise's current plight.
Solomons will move to Scotland after the second leg of the Kings' Super Rugby promotion-relegation play-off, with his troops needing to overturn a 26-19 first leg defeat or face life without Super Rugby in 2014.
However, the former Springbok assistant coach has stressed that switch is motivated by personal reasons and not a desire to jump from a potentially sinking ship.
"I believe the Kings will win by more than seven points on Saturday and that they will again play Super Rugby next year," he is quoted as saying by Die Burger.
"The reason why I left is because my wife is still in Britain and it was very tough for us these last three years.
"In any case, my contract with the Kings ends at the end of the year and I asked if I could leave earlier to start at Edinburgh."
Solomons will officially start his tenure with the Scottish outfit on August 9.