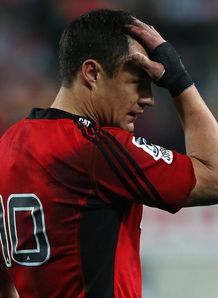 Related links
Teams
Dan Carter believes his missed drop-goal attempt in the Super Rugby semi-final was the right decision but simply lacked proper execution.
The Crusaders pivot was wayward with his attempt in the 77th minute which would have seen the men from Canterbury snatch a 22-20 lead in their encounter with the Chiefs.
However, Carter was rushed in his effort and it went away to the left. The Crusaders were unable to work another scoring opportunity and saw their season brought to a premature end as a result.
"I wanted to have a shot before the defence knew I was having a go," explained Carter.
"Sometimes you can slow the play down and then it becomes obvious you are going for a drop-goal.
"I thought it was the perfect time for it but unfortunately I was a little off-balance and I pushed it wide," he added.
"And that's the beauty of a drop goal, if you do miss you get the ball back from the opposition 22m.
"We still had a couple of minutes up our sleeve and got into some territory but we unfortunately couldn't get over the line."
Carter will be taking a sabbatical next year, and while his exact plans have yet to be confirmed he is unlikely to take part in the Crusaders' Super Rugby campaign. This leaves coach Todd Blackadder with Tom Taylor and Tyler Bleyendaal as possible options at number ten, with Highlanders fly-half Colin Slade also said to be mulling a return to the region.