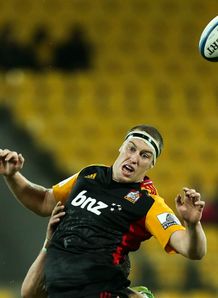 Related links
Teams
The Chiefs' hopes of defending their Super Rugby title have been given a boost with the news that lock Brodie Retallick should be fit for Saturday's semi-final against the Crusaders.
The 22-year-old spent most of last week in a moonboot after spraining his ankle a fortnight ago in the Chiefs' last regular season game against the Blues at Eden Park.
But the All Black second rower was able to try on Wednesday and is expected to take his place in the Chiefs side for the clash at Waikato Stadium.
"[The moonboot] came off on Friday so I had the weekend without it on, my workload was pretty light last week and then yesterday just did a wee bit of straight line running and then into it today," Retallick told Fairfax NZ News
"Hopefully it will be pretty good, so it's looking positive for the weekend.
"When it happened it was pretty sore.. but I battled on a wee bit and went into the sheds at halftime and it was pretty stiff and sore so we just pulled the pin there and then.
"I wasn't too sure [how bad it was] but I went for an MRI scan a couple of days later and it wasn't too bad so I was always pretty positive after that that I would be right for this weekend."
Beyond a place in the Super Rugby Final, Saturday will also be a showdown for a number of players vying for a place in the All Blacks team for the Rugby Championship, and Retallick knows he will have to be at his best against an all-international Crusaders second row. That will start with putting in a better performance than the Chiefs' disappointing loss in Christchurch.
"When we went down there a couple of weeks ago they really set the standard of where we need to be at the weekend and we know what they are going to bring and probably a little bit more," said Retallick.
"We talked a big game that week and we knew what we needed to do but we just didn't execute it and they did.
"When they've got you under the pump they're a hard side to claw back and we didn't do that either.
"We wanted to go down there and secure that number one spot and instead we left it up to chance and if the Bulls had won [their last game] they would have finished number one instead.
"We wanted to knock those last two games off convincingly and we didn't really do it so we want to go out this week and really put a good performance out there."