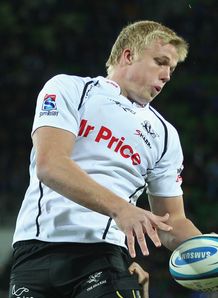 Related links
Teams
The Sharks have announced that lock Pieter-Steph du Toit has reaffirmed his commitment to the Durban-based franchise by re-signing for a further two years.
Sharks CEO John Smit expressed his delight that Du Toit has signed a new deal.
"Pieter-Steph has shown great promise and he has had a positive impact on the team, since joining the senior set-up," he said.
"We are thrilled that he has reaffirmed his commitment to The Sharks."
The Sharks commercial manager, Rudolf Straeuli echoed Smit's sentiments.
"We are delighted to have secured the signature of a player of the calibre of Pieter-Steph," he remarked.
"We not only identified him, but he has also been developed through The Sharks Academy. He has a bright future ahead of him."
Du Toit said he was delighted to stay on in Durban.
"As a twenty year old rugby player I am living my dream and I am extremely privileged to be identified by The Sharks as a player who can play a role in the province going forward," he said.
"I will continue to learn from the many experienced players in our team and I hope that I can make the contribution required and expected of me.
"I will work as hard as I can and always do my best for The Sharks."