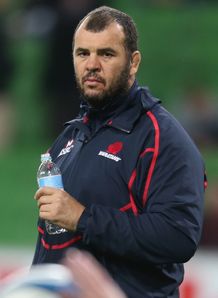 Related links
Teams
Waratahs coach Michael Cheika has hit out at the Rebels for what he feels is "not telling the truth" with regards to Kurtley Beale.
The Rebels on Saturday announced that they would not be offering Beale a new contract, with Rebels chief executive Rob Clarke stating that both parties had agreed that it was best for the 24-year-old to remain in Sydney so that he can be surrounded by family and friends as he continues his treatment for alcohol-related issues.
It is believed that the Waratahs will confirm in the coming days that the player who turned out for them 2007-2011 will once again be pulling on the light blue jersey next year.
However, despite this, Chieka has voiced his disappointment with the manner in which the Rebels have conducted themselves.
"He's another guy who nobody wants by the sound of it," Cheika is quoted as saying by AAP.
"I noticed that come out from Melbourne. I think that's a little bit disappointing to be honest, that they'd put that out because their captain was out saying a couple of days before saying we want him to stay here and (that) we could play with him no drama.
"So maybe the fact that that they didn't get him, they put that out to go against the bloke to make him look like he's no good - and I think that's that's really bad karma.
"I think it's very different to the situation with James O'Connor. They're trying to turn ... I don't know, they're not telling the truth."