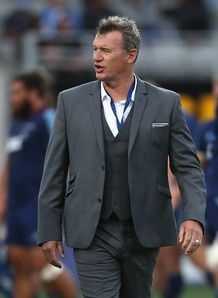 Related links
Teams
Blues coach Sir John Kirwan has called for the performances of referees to be reviewed after Kane Barrett's sending off.
The Blues blindside was shown a straight red card after 23 minutes against the Chiefs, forcing the hosts to play without a man for the majority of the match.
Barrett made contact with an opposition player's head with his boot, but the incident was not deemed as serious as the red card suggested by all parties after the game.
In the aftermath Kirwan has called for a refereeing review system, similar to the one used in the NRL, to be introduced by SANZAR to consider refereeing performances.
"In the NRL if you don't ref up to standard on Monday they come out and they talk about it," said Kirwan to Fairfax NZ News.
"This is a game of rugby we need some common sense. That was a yellow card.
"It was just trying to get him out of the way. There was no intent in it whatsoever. This is a professional sport. We've got millions of viewers all around the world watching.
"I challenge Lyndon Bray to do what we do; being dropped from selection next week because you don't play well or losing your job because you don't coach well.
"All I'm saying is that please take a leaf out of the book of the NRL so we can at least challenge this stuff.
"It's time we started to mature and be a professional sport and everyone is held accountable."