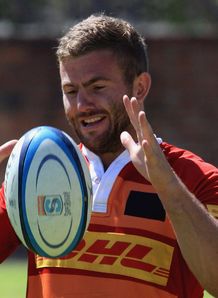 Related links
Teams
Springbok full-back/centre Jaco Taute's agent has confirmed that he has signed a two-year contract with the Stormers.
Taute moved to Cape Town on a loan agreement from the Lions after the Johannesburg team were relegated from Super Rugby and now plans to stay with his new team after inking a new deal with Western Province.
"Jaco has signed a two-year contract with WP. It will come into effect from November 1," Taute's agent Eduard Kelder told Die Burger newspaper.
The Stormers are planning a press conference on Monday at which they are expected to confirm the news and will also give clarity on the future of Springbok fly-half Elton Jantjies, who is also currently on loan from the Lions.
Jantjies will return to Ellis Park on Monday ahead of the two promotion-relegation play-offs against the Kings (in Port Elizabeth on July 26 and Johannesburg August 2) and the Currie Cup but it has been widely speculated that he too may play for the Stormers next year.
Die Burger also reports that Kings fly-half Demetri Catrakilis is heading back to Newlands to play for the Currie Cup.
"Demetri told me that Alan Solomons [Kings Director of Coaching] gave him permission to play elsewhere on a loan basis," the player's father, George Catrakilis, told the newspaper.
The loan agreement will mean Catrakilis will feature in the Premier Division instead of the First Division with the EP Kings.