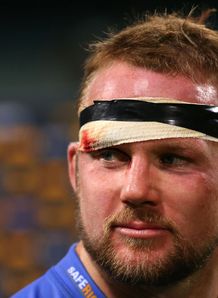 Related links
Teams
Western Force flanker Richard Brown will be plying his trade in Japan from the end of the current Super Rugby season.
The 23-cap Wallaby, who has spent eight years with the Force, will turn out for the Honda Heat as he looks for a different rugby experience.
"I think I was at risk of becoming stale and that wouldn't have been good for either me or the club," the 28-year-old told the Force's official website.
"It was a very hard decision to step away from the Force and experience something new."
"At this point of my life I just didn't want to run the risk of being here eight years and not experiencing something different."
While the Force have not enjoyed too much success during Brown's time with the franchise, he is confident that they are heading in the right direction.
"I regret that maybe we haven't had the success that this club probably deserved in my time here," he said.
"In the past I don't think we had consistency in leadership positions at the club."
"Moving forward the people installed as the directors of this team in terms of coaches and management are finally the right people."
Reflecting back on his career in Australia, Brown reveals that it is the personal relationships formed that have been the highlight for him.
"I've been lucky enough to play with some great players and great players are generally great people," he said. "They've had a big influence on my life and that's what I look fondly back upon.
"Obviously from outsiders looking in there has been highs and lows but even in the hard times I have enjoyed myself here, so I think that's a reflection of how I feel about the place."