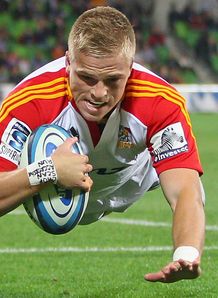 Related links
Teams
Chiefs back Gareth Anscombe is eager to face his old side the Blues this weekend at Eden Park after a spell on the sidelines.
Anscombe enjoyed a stellar start to the season playing at full-back, becoming the first player this year to rack up 100 points, before spending nine weeks out after breaking his foot.
Having been left unwanted at the Blues at the end of last season, Anscombe's move to the Chiefs appears to have paid off and the Auckland-born 22-year old would relish the chance, if selected, to face his former side in his home city.
As important to Anscombe however is fighting his way back to full fitness, putting the frustration of being stuck undergoing rehabilitation behind him.
"It will be [a big one if I get to play] but it will just be nice to get back out there to be honest," said Anscombe to Fairfax News.
"Obviously the Blues spectre always holds something a little bit more for me and [the Chiefs] need a good performance after last weekend.
"I haven't been at Eden Park for a while and it would be really nice to get up there and put in a good performance in front of a few friends and family up there.
"Having been out for eight or so weeks now it's been frustrating watching the last couple of big games.
"Last week was hard to watch and when the boys beat the 'Canes at home again was pretty tough, so I've had enough of being up on the grinder [in the gym] by myself and it's been good just to get back out there and train with the others.
"It's been good to be able to train the first couple of days this week and I'm still getting used to running and stuff, the body's a bit sore from just getting back to doing things I haven't been doing for so long.
"I don't want to let anyone down but while I don't feel like I've got full sharpness just yet that will come with a bit of game time."