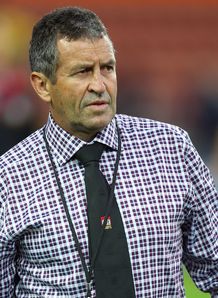 Related links
Teams
Chiefs head coach Wayne Smith has called on his team to bounce back after their heavy defeat against the Crusaders last time out.
The reigning Super Rugby champions were well beaten 43-15 last weekend in Christchurch but remain in second place on 61 points, two points behind the Bulls and at the top of the New Zealand Conference.
Smith conceded that the intensity of last week's contest had caught his side off-guard, admitting that he would be tougher on the Chiefs ahead of facing the the Blues in Auckland this weekend.
"We probably didn't have as good a week individually throughout the organisation as we should have in terms of our planning and detail and I think the intensity [of the game] took a few boys by surprise by the look of it," said Smith to Fairfax News.
"I just felt I'm pretty hard on the boys and sometimes you like to back off a wee bit, but I'll be doing my bit to make sure there's a bit of discomfort going into this weekend.
"We've worked 18 months now to get respect from our people, but the thing about respect is that it's hard-earned but easily lost so we've really got to put a marker down this weekend.
"We haven't been stressed like that for 18 months probably - [the Crusaders] skill level, the width of their passing - they were very sharp.
"They were also very aggressive in the contact area and all over us there so we didn't win too many battles across the field, which was disappointing.
"[Our league position] tells you we're capable but we've got to be genuine about everything we do, because we're not a good enough team just to slide into a game and think it's going to happen. Genuine about training off the field as well as on it."