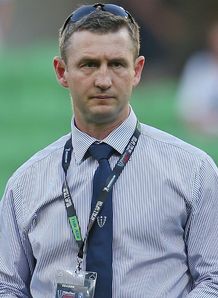 Related links
Teams
Outgoing Rebels coach Damien Hill concedes that Kurtley Beale's behaviour probably played a large role in his tenure ending.
The Rebels confirmed on Monday that Hill would leave the franchise at the end of the month, with Tony McGahan the man set to replace him.
The Melbourne outfit have endured a drama filled season that included an unfortunate incident in Durban when Beale punched captain Gareth Delve. The Wallaby later entered a treatment facility for alcohol-related issues.
Hill believes that his team's off-field problems were in part to blame for the Rebels' decision to let him go.
"It probably was a major factor," Hill told AFP.
"The behaviours of the playing group on and off the field, someone has to be held accountable and in sport that's the head coach."
However, the Australian feels that the altercation brought the team together as they proceeded to put in a host of much-improved showings, including wins over the Stormers and Waratahs.
"The performances we put on the paddock over that six-week or seven-week period would have us sitting fifth on the ladder now," he said.
"We had an excellent back half of the season and I can really see promising things happening for next year as well, so not to be a part of it is disappointing."