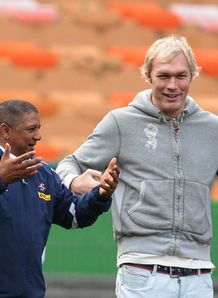 Related links
Teams
Also see
Stormers and Springboks flanker Schalk Burger hopes to decide within the next couple of months on a possible return to the rugby field.
The 68-Test veteran has been sidelined since February 2012, and as a result has been the subject of much speculation, with his comeback postponed a few times due to a series of complications.
"You get to the point where your health is more important and rugby is not a consideration, but now that I'm recovering well I want to play rugby again," Burger told the Times newspaper.
"I'll have to be cautious. I won't over-commit, but after my next check-up in seven weeks, I'll take another decision about my future.
"I won't say my return to rugby is definite, but that's what I'm striving towards."
The 30-year-old explained how a calf injury led to an operation on a cyst near his spine which in turn resulted in him contracting bacterial meningitis.
"There was a critical stage for about four, nearly five days in which there was a lot of uncertainty," he said.
"In that period I was in isolation and I was seriously ill - so ill, in fact, that some people around me thought, 'this is it'."
Burger said he had spent six weeks in hospital and another eight at home "doing very little".