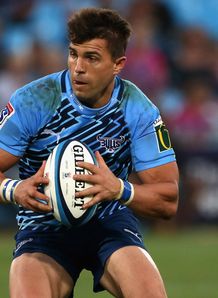 Related links
Teams
The Bull have agreed to release Wynand Olivier from his contract to allow the Springbok centre to take up an offer with French club Montpellier.
Olivier's contact expires on 31 October 2013, but the Bulls have agreed to a request from Olivier for an earlier release date. Olivier will still be available for selection for Bulls in Super Rugby until June 29 before leaving for France.
Having played for the Bulls at all levels from school boy level up and being part of winning squads in the Vodacom Cup, Currie Cup and Super Rugby tournaments and a member of the 2007 Springbok Rugby World Cup winning team, Olivier's career has been glittered with highlights and successes.
He is currently the most capped South African centre in Super Rugby, having played in 109 matches for the Bulls and his professionalism was evident all the way through, according to the BBC High Performance Manager, Xander Janse van Rensburg.
"The discussion with Wynand and his possible move to Montpellier was transparent from the start and all parties were happy with the way the final negotiations were concluded," said Janse van Rensburg.
Bulls coach Frans Ludeke agreed to the release and praised the contribution made by Olivier over a decade.
"There is nothing left for Wynand to achieve in South African rugby and we understand his need to spread his wings. He has given 10 years of his life to the Blue Bulls and never put himself ahead of the team or his team mates. He is a true professional and will leave a legacy of professionalism and performance," said Ludeke.
Olivier indicated that his work in Pretoria is done.
"I had offers to leave in 2011, but felt that I had to stay a while longer to help bring through the next batch of youngsters," he said.
"I think I managed that and felt that I could play a mentoring role as a senior player. I wanted to leave a legacy and feel I have managed that for the next group."