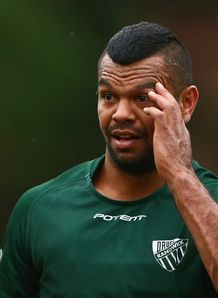 Related links
Teams
Kurtley Beale took the first step towards a return to top level rugby when he turned out for Sydney club Randwick on Saturday.
The Wallaby, who has successfully completed the first stage of his counselling for alcohol-related issues, played 80 minutes for the Galloping Greens in their 38-25 defeat at the hands of Sydney University.
Watched by Wallabies team manager Bob Egerton and Australian Rugby Union chief executive Bill Pulver, Beale was joined on the field by Drew Mitchell who gave his national colleague his backing ahead of a possible recall to the Australian squad. Mitchell dismissed concerns over Beale's fitness, with the Rebels man having played just over half-an-hour in three months prior to Saturday's run due to injury and two suspensions.
"I think if he was to get into a squad environment where he knows the people and he knows the structures, and [with] the intensity the guys train at in the Wallaby camp, I don't think it will be too much of an issue," said Mitchell. "I'm certainly not forecasting his selection, but I know that if he was to be selected I'd back the guy."
The winger added that Beale, who was seen smiling and appeared relaxed, was in good spirits but that his journey back was not yet complete.
"There's still a process for him to go through and until he's finished that process the corner still needs to be turned, but he's certainly on the right progression," he said.
According to reports, Pulver confirmed after the match that Beale would be invited to train with the Wallabies at their pre-season camp which starts on Sunday.