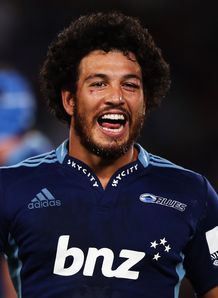 Related links
Teams
Rene Ranger has confirmed that he is reconsidering his decision to move to France at the end of the season.
According to Rugby Heaven, the Blues back is believed to have signed a $600,000 per-year deal to join Top 14 outfit Montpellier after turning out for Northland in the NPC later this year.
However, a call-up to the All Black training squad and a shortage of quality in the midfield has resulted in a change of heart from Ranger, with his agent currently in France investigating the possibility of buying out his contract.
"If the opportunity is to stay then there could be a payout," Ranger is quoted as saying by Rugby Heaven. "I'm not to sure. The agent is dealing with that.
"I'm still deciding whether I stay or go. I told them [Montpellier] I've been in the camp. Whether Shag [Hansen] takes me or not I'll just have to wait and see. I haven't had a yarn with my agent for a while. He's overseas now."
The 26-year-old admits that weighing up financial security with the opportunity to turn out for the national team is a tough decision.
"I still see myself not in the frame. They've still got Conrad [Smith]. Even if he takes a sabbatical they've got Ben Smith. Everyone is chopping and changing positions. Versatility is good, but will you be on the bench? Will you start? It's one of those hard decisions," he explained.
"I'm still deciding. If the option is to stay then there's things you have to deal with within the contract. Nothing is 100 per cent. It's still a waiting game."