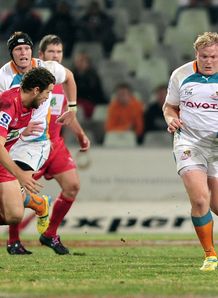 Related links
Teams
Cheetahs skipper Adriaan Strauss lauded his side's defence in their 27-13 victory over the Reds in Bloemfontein on Saturday.
The victory lifts the Bloemfontein outfit to seventh place in the overall standings, having beaten all of their Australian opposition thus far.
"I am very happy," Strauss said.
"We got the result we wanted which is the four points. It felt like we were defending the whole game. I think the guys showed a lot of character in defence.
"The Reds crossed our goal-line a couple of times and we managed to keep them off the ground.
"We were very good on defence. We gave them yards at times but we scrambled effectively when it was needed."
Despite countless attacks from the visitors, the Cheetahs defence stood firm and the Reds managed only a single try by replacement back Ben Lucas, but with the result already wrapped up, served merely as a consolation touch-down.
"We said beforehand that we needed to work hard and get up off the deck as soon as possible and fill in the channels on the inside and I think the guys did that," Strauss added.
"They worked extremely hard and I am very proud of them. We face the Kings in Port Elizabeth next week, a game which is another big challenge for us.
"But for now we are going to enjoy the victory. The team deserves it."
After the Brumbies surprisingly lost to the Waratahs earlier during the day, the Reds played for the top spot in the Australian conference.
However, their inability to finish promising attacks, coupled with several unforced errors, meant the visitors had to play catch-up from the first whistle.
"It was a disappointing night for us," Reds captain James Horwill said.
"We did all the things that we said we didn't want to do. We gave the Cheetahs a lot of unstructured ball to play with and didn't hold on to our own possession.
"We were very loose. We wanted to be direct in our approach and hold on to the ball. We wanted to put them under pressure, but we couldn't build pressure because of all the mistakes."
Horwill complimented the Cheetahs on a solid defensive performance.
"They worked very hard on defence and were very desperate," he said.
"We needed to be better in our attack and they were very desperate on defence to hold us out.
"We are two very attack-minded sides that want to play and that showed in the amount of running that was out there."