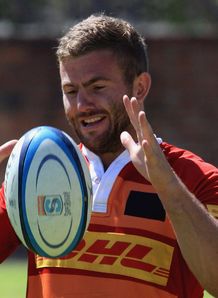 Related links
Teams
Springbok utility-back Jaco Taute admits that he is interested in seeing his spell at the Stormers made permanent.
The 22-year-old is currently on loan at the Cape Town outfit from the Lions, but with his contract with the Golden Lions Rugby Union ending in July, he will soon be a free agent.
Taute's time in the Cape has been a frustrating one, with first a groin injury and then a season-ending knee injury curtailing his playing opportunities. Despite this, he is eager to make his mark with the Stormers and to do so he would need to extend his stay.
"Cape Town is a wonderful place. It's always a new experience going to another union, but I enjoyed it a lot. It has a really great set-up and that's what I need to think about when I further my career. Both unions are great but it's up to me to look at the pros and cons of where I want to play my rugby next year," he is quoted as saying by Sport24.
Taute's representative, Eduard Kelder, has revealed that the Lions have given him permission to seek alternative options for Taute.
"We received permission from the Lions to get interest and offers from other places because he won't be available for the promotion/relegation playoffs or the Currie Cup," he explained.
"We still have to inform them about the offers we get, but we would have to get permission from them to take up the contract."