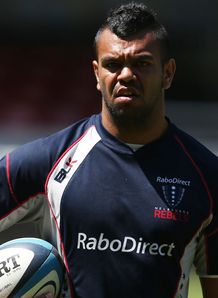 Related links
Teams
Also see
Wallaby great Matt Burke believes that Kurtley Beale is getting preferential treatment because of his prodigious talent.
Beale will sit out the Rebels' match against the Blues this weekend after he "breached behavioral guidelines" by consuming alcohol at an NRL game between the Melbourne Storm and Canberra on Saturday night.
The indiscretion followed the 24 year-old's return to action from suspension following a drunken altercation with team-mates Cooper Vuna and Gareth Delve while the Rebels were on tour in South Africa. A ban on drinking was part of the conditions of his return.
Burke is unimpressed by the manner in which the situation has been dealt with.
"The one thing I've learnt over the journey is that, if you're a prodigious talent, you get more chances than someone without the talent," Burke told SportsFan's The Clubhouse.
"Surely at 24 years of age, you are responsible for your own actions?" he added.
"Inside the four walls of a football club, players' codes of conduct (like not drinking alcohol) are held in great esteem. Him breaking one of those again should be dealt with a severe whack, I would have thought."