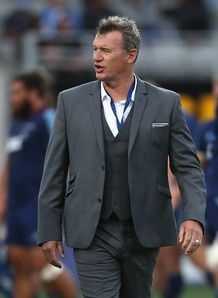 Related links
Teams
The Blues have added former New Zealand Schools number two Gafatasi Su'a to their squad as injury cover.
Injuries to Keven Mealamu and James Parsons mean that Quentin MacDonald is the only specialist hooker remaining in the Blues squad and as a result the 21-year-old Su'a will enter the fray for three weeks until the situation is resolved.
Mealamu started for the Auckland franchise against the Stormers on Friday but picked up a calf strain during the clash. Parsons meanwhile has been sidelined by a neck injury.
MacDonald has made the most of his opportunities in recent weeks, with the 24-year-old relishing the chance for regular game time after joining the Blues from the Crusaders.
"It was a good opportunity to come up here with all the new coaching staff and new players. I didn't expect to start," MacDonald is quoted as saying by Fairfax NZ News.
"I wanted to work my way into the team. I knew when Kevy came back it would be difficult and James has been playing really well. I've just had to bide my time and train hard.
"I didn't expect Kevy's calf to tighten up.
"I seem to get a bit more game-time against the Africans. You get a bit bashed up. They are big physical men. I just had to make the most of my chance."