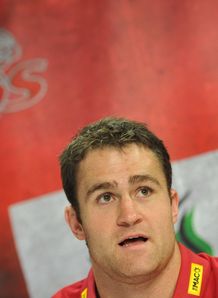 Related links
Teams
Also see
Reds and Wallabies captain James Horwill has signed a new deal which keeps him at the Brisbane-based franchise until 2015.
The two-year extension with Queensland and the Australian Rugby Union means Horwill will continue his career as a one-club man where he is now only 13 games away from becoming a member of the organisation's prestigious 100 Caps Club.
The retention of the Super Rugby championship-winning captain, who is still only 27, is a major boost for the Reds ahead of Friday's clash against the Sharks at Suncorp Stadium and will see the inspirational skipper reach a decade of service to Queensland Rugby by the end of his contact after he first debuted for the club in 2006.
The deal is equally as important for Australian Rugby with Horwill remaining in Australia through until the 2015 Rugby World Cup while he is also in line to play an important leadership role for the Wallabies in their upcoming Test series against The British and Irish Lions in June.
Horwill is thrilled to finalise his contract and to be continuing his Rugby in Queensland.
"I've made no secrets about what playing for the Reds and Wallabies means to me, so I couldn't be happier to have the contract finalised and my future settled," he said.
"We've created a pretty special environment here at the Reds over the past few years but we still feel there is plenty we can achieve as a group, beginning with winning another Super Rugby title this year.
"On a personal level, to play 100 games for Queensland would be a massive honour, so to now have an opportunity to be within reach of that mark is something that will be exciting as the time gets closer."
Reds head coach Richard Graham believes the retention of Horwill is crucial to the team's long term success.
"James is a world class player but his influence to the team and the organisation extends well beyond his on field abilities," he said.
"He is great leader of men and his dedication to understanding not only the importance of team dynamics but the business of rugby makes him an invaluable asset to our code," Graham said.
"He plays such as instrumental role in everything we are trying to achieve here at the Reds and it's great to see such a player committing his future to both Queensland and Australian Rugby."