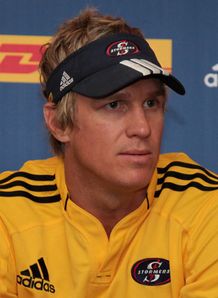 Related links
Teams
Stormers captain Jean de Villiers is wary of the attacking threat posed by the Blues backline ahead of Friday's clash in Albany.
The Blues have been unrecognisable this season from the side that endured a dismal campaign in 2012, spurred on by the arrival of coach Sir John Kirwan.
Having scored nine more tries than the Stormers so far this season, de Villiers has acknowledged the threat posed by Friday's hosts.
"They've got a good mix of exciting young talent and experience, with Piri Weepu and Rene Ranger bringing the experience," said De Villiers to the Stormers website.
"They've got a quality backline - players who can run and step - like all New Zealand teams do. They don't seem to like structure, they like an open game, so we know we are going to have to do a lot of tackling. The challenge will be to make sure that we make completed tackles or we know we could be in trouble."
"I think last year hurt them a lot and they are trying to make up for that. They also have a good coach in Sir John Kirwan, and I think they've done really well with what they have been doing.
"They have a quality backline that can hurt you. Even though they don't like structure, they haven't conceded a lot of tries. In fact, they're just behind us when it comes to tries conceded.
"Normally attacking teams leak a lot of tries but not these guys. But we've had good results against them and we almost see this as the big game of the year. We haven't even mentioned pressure, which wouldn't be in our thought process anyway. But we do realise the position we're in. It makes every game an important one from you on. If we slip up in the next couple of weeks we'll find it very tough.
"Having said that, the log is getting more jammed in the middle (there), with a lot of what you could call 'funny' results every single weekend. So I wouldn't be surprised if the points you need to squeeze into the play-off bracket was a bit lower this year."