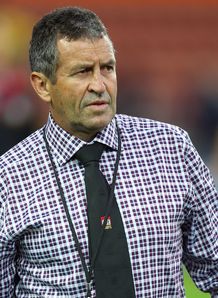 Related links
Teams
Chiefs assistant coach Wayne Smith has called for improvement from his charges ahead of Friday's clash with the Rebels in Melbourne.
Smith believes the defending champions have not put in an 80-minute performance since their 23-16 victory against the Blues in Round seven.
The Hamilton-based franchise's inconsistency is partly due to them being unable to create the momentum which helped them win the tournament in 2012.
"We haven't had the luck with injuries we had last year," Smith told Fairfax Media.
"We've had a lot more guys put out each week, whereas last year we had that big group hurt in the opening of Highlanders game, we only really had the options we played and they came through and then the reinforcements came back and we were on fire.
"This year we haven't had as much continuity of selection, but even given that we've seen players come through into the Chiefs team who have grabbed that spirit and shown the character to help us try to do it again.
"We're not there yet but there are some good things showing through."
The momentum referred to in 2012 included a nine-match winning streak at one stage.
This season they have won six games and lost three with seven rounds of the league phase of the competition still left to play.
"Our win against the Sharks last weekend certainly wasn't flawless and it sort of reflected our season a wee bit," added Smith.
"We've clocked off a few weeks, I think, physically - certainly in terms of our defence."
Smith revealed that the Chiefs had managed three minutes and 44 seconds of outstanding defence in the final 10 minutes of their win over the Sharks last weekend, which helped them secure a victory after two consecutive defeats.
"Our job now is to turn that three min 44sec into 15 or 16 minutes and get back to where we were," he said
"The last game where we were outstanding for the whole game was probably the Blues (March 30). The stats reflected that."
With the Chiefs back at the top of the New Zealand Conference, Smith believes the time is right for the Chiefs to make a charge especially with them facing Australia's two weakest sides - the Rebels and the Western Force - over the next two rounds ahead of matches against Kiwi opposition over the last five rounds.
"This is a pivotal time in the season for us. We're at the top but we need to create a gap."