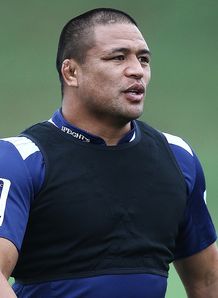 Related links
Teams
Blues coach Sir John Kirwan has confirmed that hooker Keven Mealamu will start against the Stormers this weekend.
With James Parsons struggling with a neck injury, Mealamu is set to make his first start of the season.
"Part of the plan is for him [Mealamu] to get back into it and now is a good time," said Kirwan.
"He's been on the bench three weekends and he's ready to go. JP's been fantastic for us and Kev will step up this week."
The Blues injury worries include Charles Piutau, Steven Luatua, Rene Ranger and Jackson Willison, although all four are expected to be available to play.
"It is week 11 for us so we knew people would be tired," added Kirwan.
"Most of the guys that are hurt or are sick have played the biggest numbers. Charles has played every minute of every game and has done every training run so we expected this.
"Everyone's tired. It's mid-competition and we have to be careful about how much work we do on the training field.
"We need to be up for the Stormers physically.
"Obviously they're very good mauling and around the breakdown. The African sides throw different stuff at us so we just need to be ready for that.
"They're also very good on defence so the attack coach is going to have to earn his money this week."