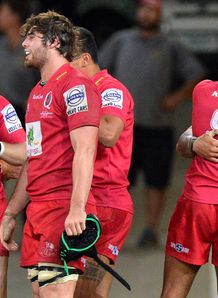 Related links
Teams
Reds boss Ewen McKenzie hailed his team's defence after they claimed a narrow 12-11 win over the Reds in Brisbane on Friday.
The Blues dominated most of the match but failed to convert all their opportunities into points. The Reds soaked up the pressure, making 142 tackles, and clinched the win with a Quade Cooper penalty in the 75th minute.
"After 30 minutes, I thought they were playing our game plan and they did a really good job of it," said McKenzie.
"It was really hard work and we never touched the ball. So we did well to hang in there ... and not let the score blow out.
"It was difficult circumstances and we've played the three top teams in the last three weeks and come away with two wins and a draw so we're happy with that."
Despite the defeat, Blues coach Sir John Kirwan praised his charges' effort and said the experience would stand them in good stead in the future.
Kirwan's pride in his young Blues' effort had him speaking like a winning coach post-match, despite lamenting their inability to take a drop-goal attempt to snatch the win.
"We talked about a Test match all week and this is one of the hardest places to come and win so I'm really incredibly proud of how the guys played," he said.
"We really matured tonight and I think it showed we can compete against anyone and that's really important for this young side to understand."