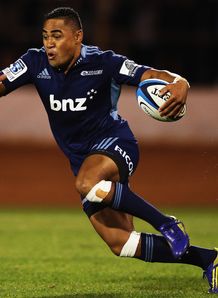 Related links
Teams
Blues centre Francis Saili will not be in the Aucklanders' starting XV for Friday's clash with the Reds in Brisbane after he was charged with a driving offence.
22-year-old Saili had his driving license suspended for speeding offences, but was caught driving by police last week.
He will appear in court on Tuesday.
"I am incredibly sorry and want to apologise for letting my team-mates, the Blues franchise and all our fans down," Saili said.
"I made a poor error of judgement and have paid the price for it. I am determined to do whatever it takes to make it up to those I have let down."
Blues head coach Sir John Kirwan revealed the news to media on Monday following a training session.
"He's just a young man who's done a silly thing," Kirwan said. "He was disqualified from driving because of speeding tickets, and he got caught driving the other day.
"He was late for an appointment and made a dumb choice. We're not playing him in the starting XV for his punishment, and there's NZRU protocols taking place."
Saili is the latest New Zealand professional rugby player to face the courts due his actions away from the game.
Hurricanes and All Blacks wing Julian Savea was charged with assault recently, following a domestic incident.