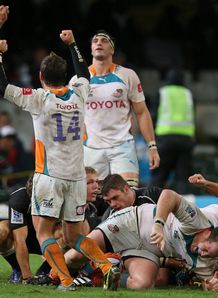 Related links
Teams
Cheetahs coach Naka Drotske has admitted his side are in a good position to challenge for Super Rugby honours for the first time in their history.
A late Willie le Roux try, and a first-half score by Raymond Rhule led the Free Staters to a 12-6 win over the Sharks at a wet and cold Kings Park.
The result temporarily moved the visitors to the top of the South African conference and third overall, but they had slipped to sixth on the combined standings by the end of the evening, after the Bulls' 34-0 triumph over the Kings in Port Elizabeth.
"I thought if we wanted to compete in the conference and end first, then winning here will be crucial," Drotske said after the win, only the third ever for the Cheetahs on the east coast.
"It was said before the last two weeks we needed to win one of the two, either against the Bulls in Pretoria or here in Durban and it happened.
"So it's a good position to be in, but there's still a long way to go."
The men from Bloemfontein, who have now won six of their last seven matches, have never qualified for the Super Rugby play-offs, with their best position coming in 1997 when they finished seventh in a 12-team format.
"We knew before the season it's going to be tough, starting with the Sharks in Bloem and then the Chiefs, two teams that played in the final last year," he said.
"We were under a lot of pressure, especially after we lost that second game 45-3 in Hamilton, but the players pulled it back and we won three on tour.
"I guess when you start winning it becomes a habit. Meanwhile, Sharks' coach John Plumtree felt it was a game they should have won.
"We created plenty of opportunities and I thought we played all the rugby," Plumtree said. "I think the Cheetahs played no rugby. They just kicked the ball away all night. We wanted to be a bit more ambitious and as positive as we could, but weren't entirely accurate.
"Losing tonight's a big set-back. We needed that win big time before going on tour, but didn't quite get it and that puts us under a fair bit of pressure now."