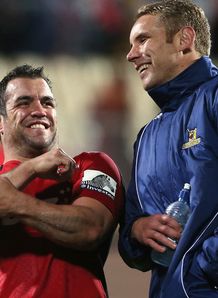 Related links
Teams
Highlanders forward Jarrad Hoeata has received an off-field yellow card for contravening Law 10.4 (e) Dangerous Tacking when he made contact with Crusaders hooker Corey Flynn.
The incident took place at a breakdown at AMI Stadium in Christchurch on Saturday and the blindside has been issued with an off-field yellow card.
An Off-Field Yellow Card may be issued by the SANZAR Citing Commissioner for foul play incidents that are very close to, but in his opinion do not meet the Red Card threshold for Citings.
In this case the incident was not acted on by the referee for the match. On further review of the match footage the Citing Commissioner deemed an Off-Field Yellow Card was appropriate.