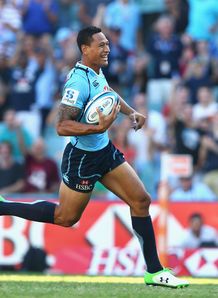 Related links
Teams
Australia coach Robbie Deans has described Israel Folau's aerial abilites as 'remarkable' after the Waratahs 25-20 win over the Chiefs.
Cross-code convert Folau has been tipped for selection by the Wallabies against the British and Irish Lions later this year.
One of the top metre makers in Super Rugby so far this season, Deans believes that Folau could play either in the back three or at outside centre for the Australia side.
"His aerial work is remarkable and that's an attribute that we'd love to have in the group because it's a big part of the game now, and it'll be a big part of the Lions' game obviously," said Deans to AAP.
"You can use it as an attacking strategy but defensively he diffuses bombs, and you've only got to talk to your forward pack to understand the value of that."
"He could easily come into the front line as well. He could easily play outside centre, but his aerial skills are such that you probably want him under that. His background is more on the end of the line as a winger, but it doesn't concern me watching him play fullback because from fullback he has to consider touch to touch and goal-line to goal-line.
"So he'll come to gain a greater understanding of the game dynamics from fullback than he may have done playing on the wing all the time. So it's no loss really and he's showing that he's picking up on the detail.
"Obviously he's got a great capacity to carry the ball, but he also works for others well. He'll put others into space and provide opportunities for others, so he brings that with him naturally."