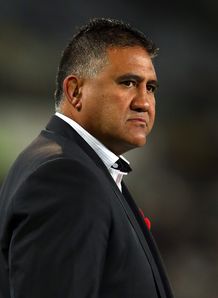 Related links
Teams
Highlanders general manager Roger Clark is backing coach Jamie Jospeh despite the side's poor start to the tournament.
With seven defeats, in as many matches, the Highlanders are at the bottom of the table with six points - nine points behind the 14th-placed Rebels.
But Clarke said he and the Dunedin-based franchise's board are convinced Joseph is still the right man to be in charge of their team.
''We picked him [Joseph] up a couple of years ago and re-signed him for another couple of years last year because of the results he has managed over the past couple of years,'' he told the Otago Daily Times.
''Nothing has changed with that. The bottom line is the board and myself have got every confidence in Jamie. If anyone can turn it around then he can.''
Clark also gave his support to Scott McLeod and Jon Preston who joined the Highlanders as Joseph's assistants this season, replacing Simon Culhane and Kieran Keane.
''We selected them because of the qualities we thought they could bring to the role," he added.
"That hasn't changed. It is a hell of a challenge for them in their first year, but they are doing a really good job.
''It is a bloody tough job for them. They came into a new situation and they found themselves zip from seven. They are doing their best.''
Meanwhile, Clarke also rejected recent criticism of All Blacks centre Ma'a Nonu's play during the Highlanders' poor run of results.
''Personally, I think he has been one of our better players," he said.
"Off the field and engaging with the community, he has been absolutely outstanding. One of the best in the team. To criticise him and blame him for where we are is absolutely ridiculous.
''All of us are trying really hard for a win. I have been impressed by how tight the guys have stayed together. They are determined to turn it around.
''And we have got to remember this is only early days. We are in a competition which goes to July. It is a long season. There is a lot of rugby to be played.''