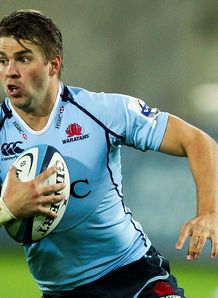 Related links
Teams
Also see
Waratahs wing Drew Mitchell will leave the Sydneysiders to join Toulon later this year, according to Australian media reports.
It is understood Mitchell will join the Top 14 club on a two-year deal after agreeing to an offer overnight.
The Waratahs and the Australian Rugby Union had also tabled an offer but are expected to confirm Mitchell's departure on Wednesday.
"I have a decision to make by tonight," Mitchell told the Sydney Morning Herald on Monday.
"I have a bit of thinking to do.
"I have had an offer tabled by the Waratahs, and I guess I have a few hours to think about it. In all fairness, I would have liked to have a few [more] hours to think about it, but I guess that's the world we live in."
The 29-year-old revealed he was speaking regularly to former Wallabies team-mate Matt Giteau, who plays for Toulon.
"I speak to 'Gits' all the time," said Mitchell.
"I have had discussions with him but, to be fair, the last thing he said to me was I had to make the decision myself.
"As much as he'd like to have me there, because we do get along so well, first and foremost he knows I have to be comfortable in the decision I make, and it's got to be a decision I make for myself."
Mitchell, who has represented the Wallabies in 63 Tests, admitted that he would miss Australia.
"First and foremost, playing for Australia means absolutely everything to me," he added.
"And playing here at the Waratahs ... I have been to a few different clubs... Of the three I have played [at], I certainly feel most at home here.
"It's a challenge thing, what I want out of footy and life."
Waratahs boss Michael Cheika said the Waratahs could not match Toulon's offer.
"Even for the European clubs, it's not the same playing field," he said.
'Toulon and Racing (Metro), and Clermont maybe, they've got massive dollars.
"It's a lifestyle decision and an ambition decision. It's about what your ambitions are.
"He would very heavily be torn towards it, I'd imagine. Giteau is there as well, they're close friends. It's a big decision for him."