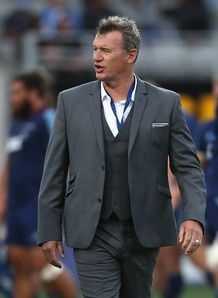 Related links
Teams
Also see
Blues coach John Kirwan believes his side have plenty to improve on after their 28-6 victory over the Hurricanes on Saturday.
The victory sees the Blues consolidate second spot in the New Zealand Conference, but Kirwan stated that his side could have added more tries in a comprehensive victory, with Frank Halai in particular impressing.
Whilst delighted with his side's defensive efforts, Kirwan highlighted difficulties in retaining possession as an area to improve on ahead of next week's bye.
"We had to improve our defensive line and the speed into contact, and we've been working very hard on that," said Kirwan.
"I think tonight we saw some pretty special team defence and finishing it with some good hits.
"If [we] want to survive in this tournament that's what we need to do.
"We ticked off a lot of boxes that we haven't been getting right in the past.
"We're still not the finished product, we've still got a lot of hard work to do but I think this is a really big step in the right direction, especially defensively.
"I think we can play better, I think we can play a lot better. I think we left a lot of tries out there and I think we need to get a lot more disciplined around ball retention.
"It doesn't stop; we're a long way from where we want to be."