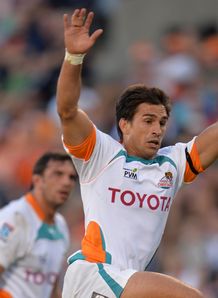 Related links
Teams
Also see
Montpellier are trying to sign the Cheetahs' in-form midfielder Robert Ebersohn according to reports in the South African media.
The SA Rugby Magazine's website reports that Montpellier are keen for Ebersohn to join them after the completion of this year's Super Rugby season.
However, Ebersohn is contracted to the Cheetahs until November, which means he is set to play for them during their Currie Cup campaign.
Montpellier were hoping for an early release before the start of the European season, but the Cheetahs reportedly turned down the request.
The 24-year-old, who has been one of the Cheetahs' star performers in Super Rugby, admitted that he is reluctant to leave as he has ambitions of playing at a higher level.
"My ultimate goal is to play for the Springboks, and I have to be based in South Africa to achieve that," he said. "Montpellier approached my agent a couple of weeks ago, and he passed on the news to me.
"At this stage, there is no way I can give them a final decision because we're only seven games into the Super Rugby campaign. I also can't join them at the end of Super Rugby, so I don't know if that changes things.
"If the Cheetahs do really well this season, that will encourage me to stay. Springbok coach Heyneke Meyer also encouraged me to keep going. It's well-known that he prefers bigger and more physical players, but he told me not to give up. He said he will consider me if I do well consistently."