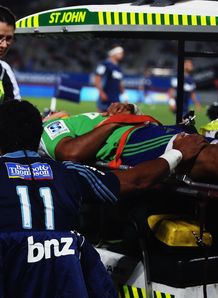 Related links
Teams
Blues wing George Moala has been handed a one-week suspension for a high tackle on the Highlanders' Buxton Popoali'i at Eden Park on Friday.
Popoalii was knocked unconscious as he was hit on the chin by Moala's shoulder while catching a high ball.
Moala was shown a yellow card by referee Steve Walsh for the incident and pleaded guilty to the subsequent citing.
The suspension means Moala will miss next weekend's clash with the Hurricanes in Auckland.
Moala did not return to the field after the sin-binning as his coach John Kirwan considered the young player was very shaken by the incident.
SANZAR judicial officer Nicholas Davidson considered there was "no intentional foul play and that all indications were of an orthodox tackle until Popoali'i reached forward and dropped his body position that lead to contact above the shoulders and with considerable force."
The DJO also expressed real concern at the incidents involving the head and neck region this season and while different in kind the message must now be patently clear that the dangers in high contact must now reflect in deterrent sanctions.